Cultural Capital
Cultural Capital addresses the requirement for schools to provide learners with "the knowledge and cultural capital they need to succeed in life". It could be explained as an indicator of how well a pupil is able to succeed academically and engage in wider society. Children learn skills and realise talents, develop character and resilience, and learn about British values, diversity and mental health & well-being.
Out Lindow Life Skills programme aims to address this curriculum requirement and on this page we illustrate some additional initiatives undertaken at Lindow Primary School.
Remembrance Day celebrations - Alan Turing
This year, our remembrance celebrations across the school focused on thanking and remembering those forgotten heroes that, even though they did not fight at the frontline, played such an integral role in our national war effort, especially in the Second World War. With a local link to Wilmslow, Alan Turing was a significant person of the past, who children across the school have loved learning about and who they have been proud to celebrate as a person of great mathematical skill and intelligence, of great perseverance and self-belief in this code-cracking machine, of forward-thinking computing designs, at a time when he w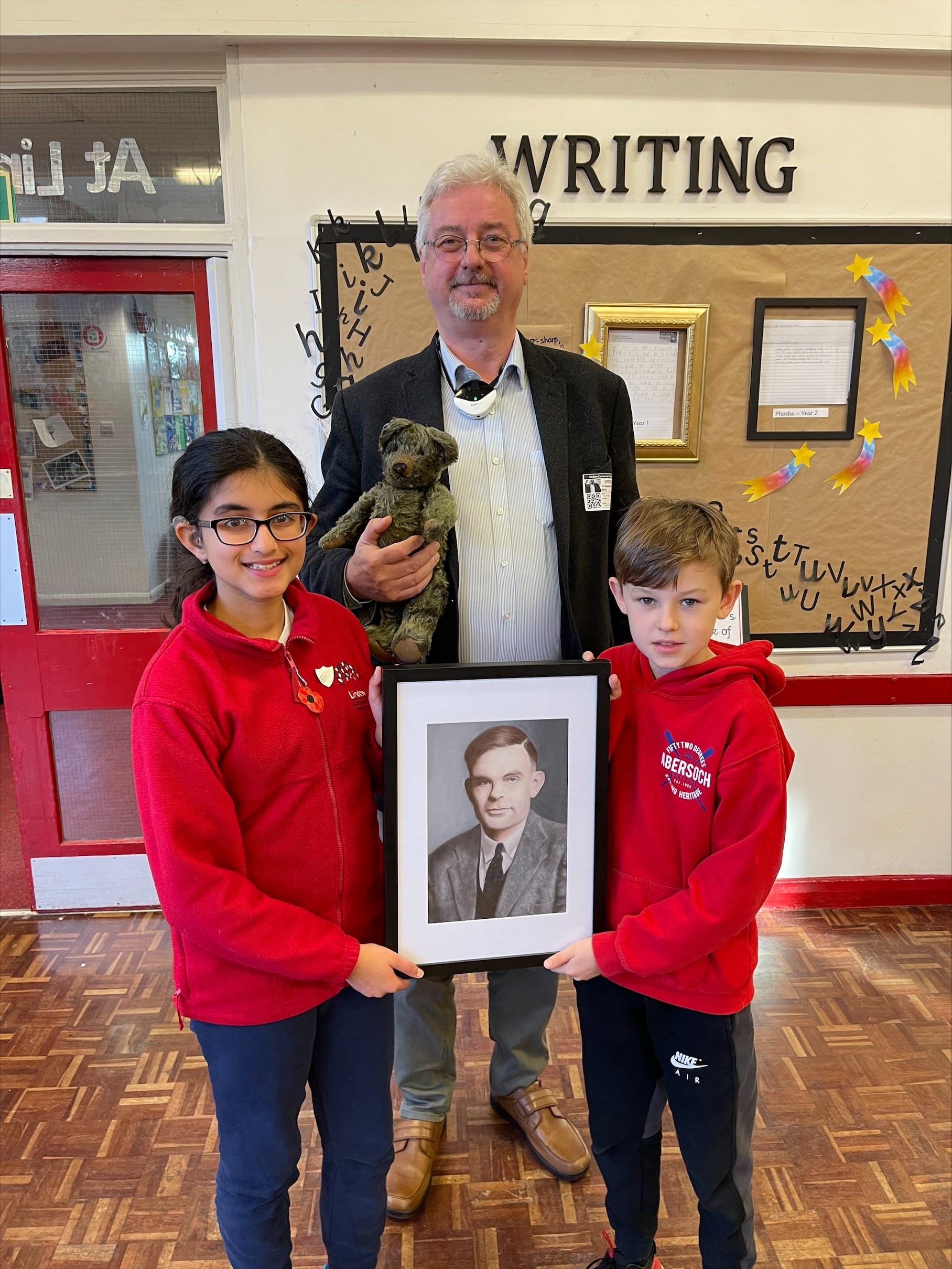 as doubted by many, and someone who faced much adversity in his personal life, that we want to respect and value. This focus was inspired by the Wilmslow Historical Society, who have recently dedicated part of Wilmslow Library to Turning, with the Turing room. Students and staff at Lindow were delighted to be visited by David Briggs, Society chairman, who shared stories of Wilmslow's history and of Turing, Wilmslow's most famous person as voted by the town's people. The school was delighted to be presented with a portrait of Alan Turing by local artist, Paul Webber, which is photographed here being received by Head Boy, Benjamin Holder, and Head Girl, Gautami Sarseshpande, alongside David Briggs.
Bikeability
Bikeability cycle training equips children with vital life skills. Pupils not only learn to cycle, they gain independence, social skills and a sense of wellbeing.
After Bikeability, children are better at responding to risk and report increased confidence. As a result, more children cycle to school which in turn improves mental health and wellbeing. This allows children to get more out of the classroom, improving their attention span and engagement. Healthier habits lead to increased attendance and improved academic results. Bikeability goes beyond a training course; it impacts children's lives.
Children in Need
For Children in Need day 2021, Styal house held their annual fundraiser. We had a day of Lindow Come Dancing and The Great Lindow Bake Off. All children throughout the school learned a dance to a song under the theme 'Together We Can' to raise money for those children less fortunate. The Year 5 and 6 Styal team did an amazing job of teaching their dance to children, right the way up the school. What a brilliant day it was! Families got involved by sponsoring children to learn and take part in a 'flash mob' on the playground! We also had some really delicious Pudsey treats made and brought in to school to sell. We raised over £850!
Visit to Chester Zoo
To support learning on the topic of conservation, Year 6 visited have Chester Zoo.